Marine Aquariums of the World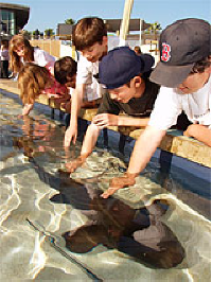 Marine aquariums are among the most important places for marine education. Millions of people annually visit aquariums to see marine life, be entertained by educational performances, take classes, hear presentations, or just spend time in a place that is the next best thing to being on the ocean. Aquariums provide touch-and-feel opportunities to interact with marine life and replicate marine environments in multiple ways. The list below is only the beginning!
Do you have a great marine aquarium you'd like to share? Jump to the bottom of this page and tell us what we have missed!
Acquario di Genova
Adventure Aquarium
Alaska Sea Life Center
Albuquerque Aquarium
Aquarium of the Bay
Aquarium of the Pacific
Aquarium of Western Australia
Atlantic City Aquarium
Atlantis Marine World
Audubon Aquarium of the Americas
Birch Aquarium at Scripps, UC San Diego
Blue Reef Aquarium Hastings
Blue Reef Aquarium Newquay
Blue Reef Aquarium Portsmith
Blue Reef Aquarium Tynemouth
Bristol Aquarium
Cabrillo Marine Aquarium
California Academy of Sciences
Calvert Marine Museum
Clearwater Marine Aquarium
Cold Spring Harbor Fish Hatchery & Aquarium
Columbus Zoo and Aquarium
Dallas Aquarium at Fair Park
Dallas World Aquarium
Deep Sea World, Scotland's National Aquarium
Dolphins Plus
Downtown Aquarium Denver
Downtown Aquarium Houston
Downtown Aquarium Kemah
Downtown Aquarium Nashville
Dubai Aquarium and Underwater Zoo
Florida Aquarium, Inc
Florida Seaquarium
Georgia Aquarium
Great Barrier Reef Aquarium
Gulfarium
Gulf Specimen Marine Lab
Gulf of Maine Aquarium
Jenkinson's Aquarium
Key West Aquarium
Living Coast Discovery Center
Loggerhead Marinelife Center
London Sealife Aquarium
Long Island Aquarium
Maine State Aquarium
Marine Education Center and Aquarium
Marine Life Oceanarium
Marine Science Center
Maui Ocean Center
Melbourne Aquarium
Memphis Zoo and Aquarium
Miami Seaquarium
MK Nature Center
Monterey Bay Aquarium
Mote Marine Aquarium
Mystic Aquarium
National Aquarium I Baltimore
National Aquarium in Washington, DC
Nauticus, National Maritime Center
New England Aquarium
New Jersey State Aquarium
Newport Aquarium
New York Aquarium
North Carolina Aquarium at Fort Fisher
North Carolina Aquarium at Pine Knoll Shores
North Carolina Aquarium at Roanaoke Island
OceanWorld Manly
Okinawa Churaumi Aquarium
Parker Manatee Aquarium
Point Defiance Zoo & Aquarium
Oklahoma Aquarium
Oregon Coast Aquarium
Reef HQ Aquarium
Roundhouse Marine Studies Lab and Aquarium
Sea World Orlando
Sea World San Antonio
Sea World San Diego
Seattle Aquarium
Seymour Center at Long Marine Lab
Shark Reef at Mandalay Bay
John G. Shedd Aquarium
Smithsonian Marine Station at Fort Pierce
South Carolina Aquarium
Steinhart Aquarium
Sydney Aquarium
Tennessee Aquarium
Texas State Aquarium
Toledo Zoo
Underwater Adventure's Aquarium
Underwater Observatory Marine Park, Eilat, Israel
Vancouver Aquarium
Virginia Aquarium/Marine Science Center
Virginia Institute of Marine Science
Waikiki Aquarium
More aquariums coming soon!