OCEAN GAMES
About Ocean Games and Interactive ToolsGames and online interactive tools make learning about the ocean fun. The games and tools featured here are just a start. These links come from respected ocean research and education organizations and can be relied upon to provide both fun and learning.
If you know of a great ocean game we should add to this list, please let us know by filling out the contact form at the bottom of this page.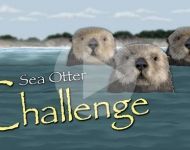 Credit: Aquarium of the Pacific
Aquarium of the Pacific
Scripps Institution of Oceanography
More games and interactive tools coming soon!
Share your favorite ocean games with us!