GREG MACGILLIVRAY'S OCEAN WORLD
How we see the ocean is, in part, a reflection of how the world's film makers, directors, writers and producers see the ocean and share it with us in their work. Greg MacGillivray has made a career of showing us the ocean in all of its elements. His productions have included, surfing, coral reefs, dolphins, rivers that lead to the sea, places alongside the ocean and much more. This map places an image of each of his ocean and ocean-related films on a map of the world.
Where no image is available, Greg's photo takes its place.
Clicking on the image will take the reader to a pop-box with a summary of the film.
Clicking on the image inside the pop-up box will take you to an IMDB web page with more information about the film.
Enjoy! And thank you Greg for your beautiful work!!
Greg MacGillivray – Ocean Video Pioneer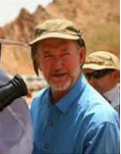 Greg MacGillivray is a giant-screen documentary filmmaker who has produced and directed some of the most successful films in the IMAX® film format, including the box-office hit "Everest" and the Academy Award®-nominated films "The Living Sea" and "Dolphins."
With 35 giant-screen IMAX/IMAX 3D films to his credit, MacGillivray has shot more 70mm film than anyone in cinema history—more than two million feet. He is the first documentary filmmaker to reach the $1 billion benchmark in worldwide ticket sales.
An ardent ocean conservationist, MacGillivray and his wife Barbara recently founded the One World One Ocean Foundation, a non-profit public charity devoted to science education through giant-screen films and companion programming. The Foundation's first initiative is the One World One Ocean campaign, MacGillivray's most ambitious project yet: a sustained, multi-platform ocean media campaign aimed at changing the way people see and value the ocean. The campaign includes three IMAX films, a television series, a feature documentary, and a series of original Online programming—all to be released in collaboration with MacGillivray Freeman Films over the next five years. "To The Arctic" is the first film presentation of One World One Ocean. (www.oneworldoneocean.org).
Reprinted from MacGillivray Freeman Films.