Ocean Conditions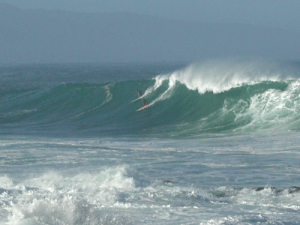 "Oh the waves crash in and the tide pulls out,It's an angry sea but there is no doubt,That the lighthouse will keep shining out.To warn the lonely sailor"
Ready for the Storm, Kathy Mattea
The status of the ocean on a day-to-day basis is of critical importance to much of the ocean community, whether they are lone sailors out on the sea, researchers studying the ocean, people playing in the ocean or workers doing business on the ocean. Whether its big surf, water temperature changes, incoming weather, or just knowing the tides, an understanding of ocean conditions is critical.
Many sources of ocean conditions are available across the planet. The collection below is just a start in providing access to basic information about ocean conditions.
If you know of an online source of ocean conditions, please share it with us on the contact form at the bottom of this page!
NOAA's National Data Buoy Center provides global coverage of ocean buoys.
NOAA's Marine Forecast Map provides marine forecasts including a number of variables.
NOAA's NowCoast includes many marine condition variables.
The National Snow and Ice Data Center provides information about the extent of sea ice in the Arctic.
The Port of San Diego's site shows real -time San Diego Bay wind, current and tides.
The U.S. Navy provides complete sun and moon positions for one day.
NOAA's National U.S. Tide Map shows tides and other information at locations around the country, including Alaska and Hawaii.
Ocean Observations Panel for Climate Change presents ocean climate indices that can be linked to major patterns of climate variability.
International Ocean Observing Systems Association (IOOS)
The following links provide access to ocean conditions provided by a group of research organizations that are part of the U.S. International Ocean Observing Systems Association (IOOS ). Please check out the work they are doing in your region of the U.S.
The Integrated Ocean Observing System (IOOS®) is a national-regional partnership working to provide new tools and forecasts to improve safety, enhance the economy, and protect our environment.
Surf Forecast Sites