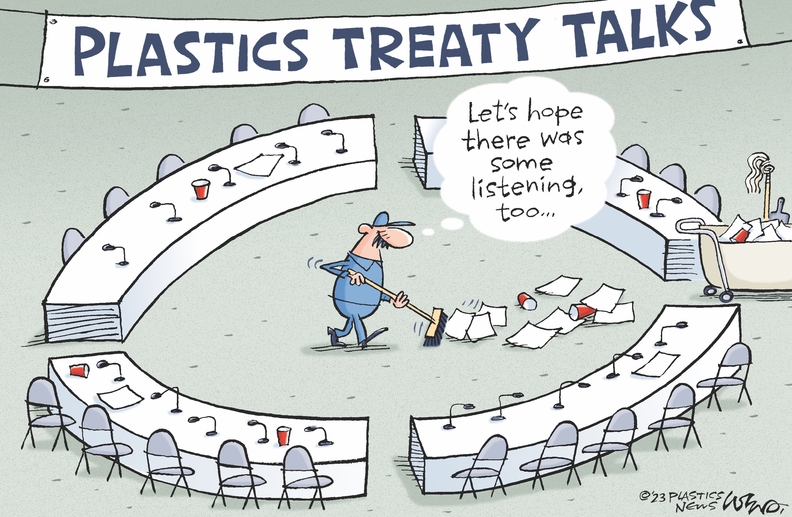 The second of at least five United Nations negotiating sessions to draft a plastic pollution treaty ended on June 2, 2023, in Paris, France, with a consensus-based agreement that the group should return in November in Nairobi, Kenya, with a first draft of a legally binding treaty for negotiators to review. Known as the "zero draft," this first version of the treaty will provide a framework and a set of options for negotiators to consider.
According to Plastics News on June 2, 2023, industry groups at the talks "expressed optimism that the session made progress. Some environmental groups agreed but noted that oil-producing countries and fossil fuel industries were trying to weaken the treaty … delegates, including those from environmental groups and industry, held talks throughout the week on recycling challenges, extended producer responsibility, chemical health issues, the status of informal workers in the recycling industry, microplastics and other topics."
Three key conflicts will have to be resolved if a binding and effective plastic treaty ultimately emerges by the end of 2024.
Conflict One – Rules for Decision-making. The good news that the treaty will move forward to a zero draft was blunted, according to Politico, in a June 2, 2023, article when "one side — led by countries including Saudi Arabia, Brazil, China, and India — pushed for treaty decisions to be adopted by consensus, giving individual countries veto power. Other countries — including the EU, the U.S., the U.K., and Norway — wanted them to be put to a vote, dependent on a two-thirds majority." In the end, the decision was tabled until the next talks in November 2023. The ultimate resolution of this key conflict will guide what is ultimately possible.
Three countries seeking to block voting rules are top ocean plastic polluters.
It is important to note that three of the four countries leading efforts to block decisions by a 2/3 vote are on the lists of the top ten countries leaking plastic into the ocean. While China, India, and Brazil's motivations are likely economic rather than opposition to environmental progress, if these three countries, which are the source of between 20% and 30% of ocean plastic, are not supportive of binding rules on plastic pollution, then it will be hard for the treaty to achieve the hoped-for goals.
Previous conflicts surfaced when substantive discussions began on day three.
Conflict Two – Limiting Plastic Production vs. Recycling. The High Ambition Coalition, which includes 55 nations led by Norway and Rwanda, along with environmental groups, "want to end plastic pollution altogether by 2040 by slashing production and limiting some chemicals used in making plastics," according to a story on PBS News Hour on June 3, 2023.
The coalition put out a public statement of negotiating positions, calling for "binding provisions in the treaty to restrain and reduce the production and consumption of primary plastic polymers to sustainable levels," according to a story in Plastics News on May 30, 2023. Plastics News also reported that some sources are suggesting that "disputes over potential caps on resin production were a significant reason" the talks got off to a rocky start.
PBS also said that "countries with big petroleum industries like the U.S., China and Saudi Arabia are focusing instead on plastic recycling" instead of caps on resin production. Corporate interests want the focus to be on the circular economy, moving toward the capability to recycle 100% of plastic produced. This has been a long-standing conflict.
Conflict Three – National Plans vs. Binding Commitments. Some of the same countries that want to focus on recycling also "want country-by-country rules instead of across-the-board limits." This strategy to use national plans has been modeled by the U.N.'s climate treaty with mixed results.
The challenge for the negotiating group will be to begin bridging these three major conflicts when negotiators meet again in November.
For more information about the plastic negotiations, see the following resources: