Progress on ocean plastic is slow, but some solutions are gaining ground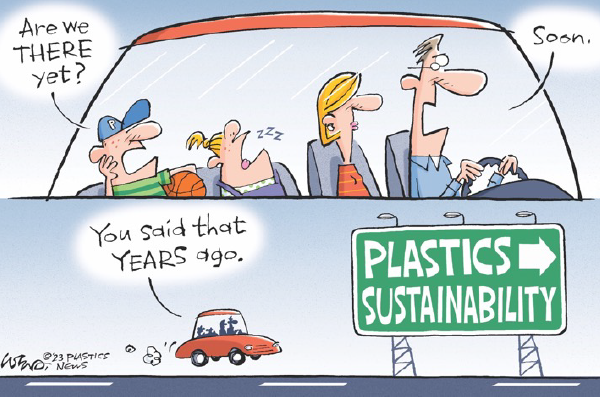 Image credit: Plastics News/Rich Williams
A brief history of the rise of ocean plastic
Understanding the evolution of the ocean plastic crisis is important to understand where we stand today and how the evolution to a plastic-free ocean might unfold. OpenOceans Global checked resources from the Science History Institute, along with information from the United Nations Environment Programme (UNEP) to assemble some background on the history. Here are some key facts:
The first synthetic polymer was invented in 1869 in response to a $100,000 challenge to anyone who could create a substitute for ivory, replacing the need to kill wild elephants to create products like pool balls.
In 1907, the first synthetic plastic was created, in the form of Bakelite, first used as an insulating material. It was "durable, heat-resistant, and ideally suited for mechanical mass production."It could be "shaped or molded into almost anything."
During World War II, plastic use grew by 300% to make products that otherwise would need to be made from scarce natural resources.
Following the war, plastic began to take the place of traditional materials, including steel in cars, paper and glass in packaging, and wood in furniture.
Plastic was seen as an inexpensive, safe, sanitary substance that could be shaped by humans to their every whim.
Plastic debris was first observed in the oceans in the 1960s.
In the 1970s and 1980s, anxiety about waste increased, and the plastics industry led an influential drive encouraging municipalities to collect and process recyclable materials as part of their waste management systems.
Between the 1970s and the 1990s, plastic waste generation more than tripled, reflecting a similar rise in plastic production.
In the early 2000s, the amount of plastic waste generated rose more in a single decade than it had in the previous 40 years.
A high-level take on the status of the ocean plastic crisis
Where does that leave us - a world with a seemingly insatiable demand for the convenience and low cost of plastic and a demonstrated lack of success in replacing, reusing, recycling, and managing plastic waste?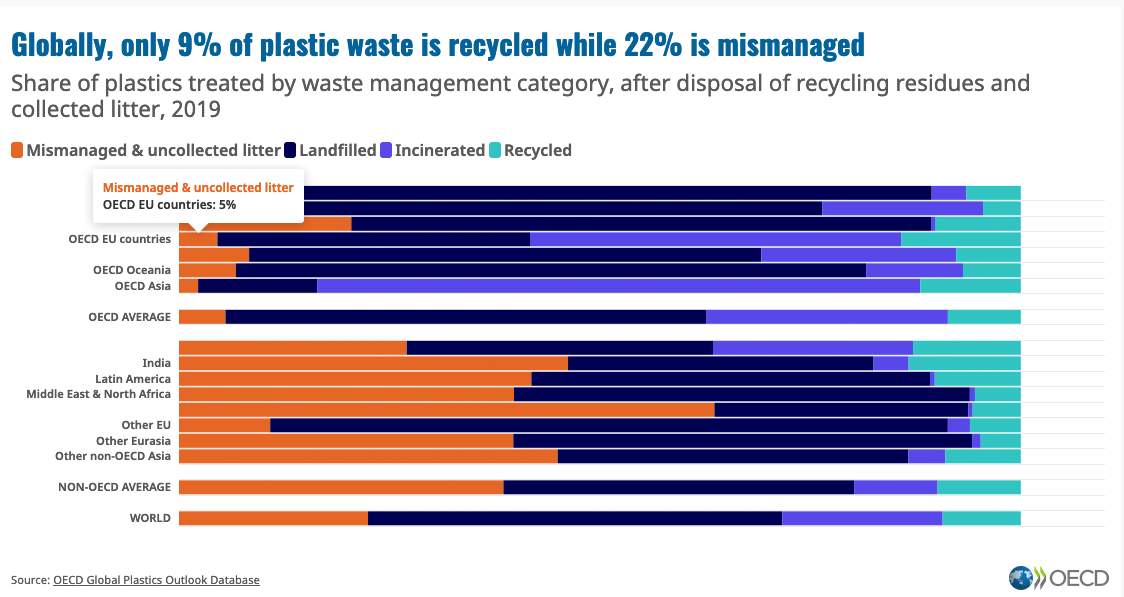 Image credit: OECD Global Plastic Outlook Database

As you can see from the chart above from the Organization for Economic Co-operation and Development (OECD), there are only three ways to dispose of plastic waste: put it in a landfill, incinerate it, or recycle or reuse it. The rest is mismanaged and uncollected litter, often trashing the world's environment both on land and at sea. Here's a high-level take on where we are today.

The Bad

Despite efforts to address plastic waste going back at least 40 years, it is still a growing crisis. Some factoids:

Plastic waste has dramatically increased. The UN says 400 million metric tons of plastic waste are produced every year, and the Pew Charitable Trusts estimates that plastic will increase from 11 million metric tons annually in 2020 to 29 MT in 2040.
Waste management is still lacking globally. According to Visual Capitalist, India, China, and the Philippines lead the world in the most mismanaged plastic waste, with the Philippines alone accounting for 350,000 tons, or 37%, of mismanaged waste released into the ocean annually.
Recycling success is limited. Despite more than 40 years of messaging, only 9% of all plastic produced has been recycled, and 22% of plastic is mismanaged, according to the OECD.

The Good

Here are some examples of where progress is being made.

Image credit: UN Council on Foreign Relations/OECD

Still Trying

A number of efforts to address ocean plastic are aspirational and haven't met the goals desired, others are in progress but not ready for prime time, and some are controversial.

More to know and more to do – together

There is much more to report than summarized above, and OpenOceans Global hopes this information will encourage additional thinking in understanding the real status of the ocean plastic crisis and efforts to address this environmental disaster. Working together, from a factual foundation, we can make a difference.
Share: https://www.openoceans.org/blog/Blog32/Progress-on-ocean-plastic-is-slow-but-some-solutions-are-gaining-ground
Share Category "Trash and Plastics":
https://www.openoceans.org/blog/BlogCategory6/Trash-and-Plastics