Plastic water bottles and safe drinking water - a dilemma and an opportunity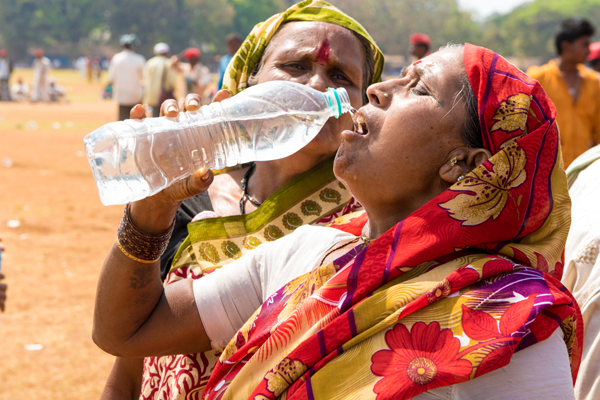 Image credit: Shutterstock / arun sambhu mishra
Lack of safe drinking water is a driver of plastic pollution. According to a story in Reuters on March 16, 2023, 2.2 billion people do not have access to safe drinking water, with the number of people who had access growing by only 4% between 2016 and 2020. That means that more than 25% of people in the world need bottled water for safe drinking, and bottled water comes packaged in plastic with no cost-effective option to replace that plastic. According to World Atlas, these are the countries that consume the most bottled water:
China (10.42 billion gallons)
USA (10.13 billion gallons)
Mexico (8.23 billion gallons)
Indonesia (4.82 billion gallons)
Brazil (4.80 billion gallons)
Thailand (3.99 billion gallons)
Italy (3.17 billion gallons)
Germany (3.11 billion gallons)
France (2.41 billion gallons)
India (1.04 billion gallons)
Five of those countries, in bold, are also on the lists of top ten countries that directly contribute large amounts of marine plastic via their rivers or shorelines. The other five are among the nations that do not directly contribute the largest amounts of plastic to the ocean, but impact marine plastic by:
Exporting plastic waste to countries with poor waste management,
Manufacturing products in countries with poor waste management, and/or
Providing significant numbers of tourists to those countries.
All of the above create more ocean plastic waste. It is also important to note that countries with safe drinking water consume water in plastic bottles as a convenience rather than a necessity.
While global goals to reduce plastic pollution to the ocean and plastic production are ambitious, the following statistics reported by Reuters are strong indicators that when it comes to plastic bottles, the trend is going in the wrong direction.
The bottled water market grew by 73% from 2010 to 2020.
Consumption of bottled water is on track to increase by 24% from 350 billion liters in 2021 to 460 billion liters by 2030.
The industry produced 600 billion plastic bottles in 2021, 85% of which are likely to end up in landfills.
The challenge to reducing this production and the resultant pollution has several tracks:
Provide safe drinking water. How can global resources be applied to significantly improve access to safe drinking water for those that do not yet have it? And how can we expect a reduction in plastic water bottle use if that is the only way for more than one quarter of the world's population to obtain safe drinking water?
Eliminate the convenience use of bottle water. For those of us who have access to safe drinking water, how do we do more to eliminate the use of plastic water bottles as a convenience both at events and for daily use?
Recycle more PET bottles. For the plastic bottles that continue to be used, how can a large percentage be recycled? The bottles are typically made from polyethylene terephthalate (PET), a material that can be successfully recycled (see below).
Opportunities for improvement in plastic bottle recycling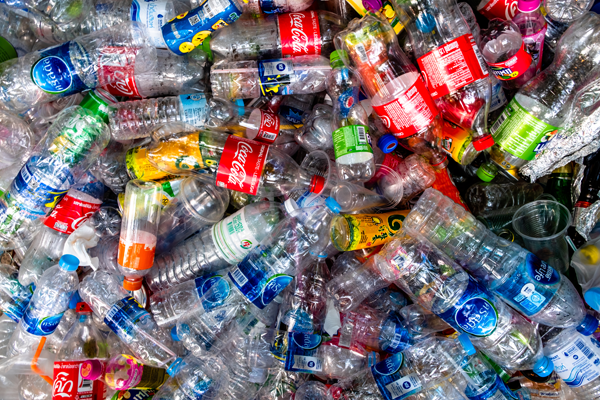 Image credit: Shutterstock / rivermartin
If there is a bright spot in the future of plastic bottle pollution, as reported in the January 2023 issue of The Transition, high levels of PET bottle recycling have been achieved, and in varying ways.
In Norway, 95% of PET bottles are recycled, thanks to a refundable per bottle charge to consumers, readily available recycling opportunities, and a tax on producers that is reduced according to the percentage of bottles recycled. At 95%, the tax is waived. The producers have banded together to form a nonprofit to guide the industry in how to achieve the 95% rate.
In India, one of the countries challenged by a lack of safe drinking water, 90% of PET bottles are recycled, thanks to a waste picker community that scours landfills for PET bottles and a supply chain that pays for those bottles and moves them to recycling facilities. More evidence of this comes from Reliance Industries Limited, which announced in 2021 that it is doubling its PET recycling capacity to 5 billion post-consumer PET bottles to ensure India maintains a 90% recycling rate.
The U.S. recycled PET market is competitive, according to a March 7, 2023, story in Plastics News, creating opportunities to expand PET recycling. Compared to Norway and India, the U.S. recycling rate for PET bottles and other products is low, only 18.2%, according to a State University of New York study in 2017. Maine has the highest rate of recycling PET bottles at 72%, while South Carolina only recycles 2%. Many other states have very low recycling rates, too. Could a national program to achieve a 90% recycling rate be implemented in the U.S. while also eliminating much of the convenience-related use of plastic bottles?
PET plastic: villain or hero?
According to a June 11, 2022, paper published in the National Library of Medicine, PET bottles have several factors that make them an environmentally friendly choice:
PET bottles mono-material composition allows them to be more easily recycled.
Modern advancements have made recycled post-consumer PET (rPET or PCR) a safe material for reuse as beverage packaging.
Demand is high for plastic feedstock necessary for producers to reduce their use of virgin plastic.
Compared to glass, the PET bottle is lightweight and has a lower carbon footprint in production and transportation.
Yet the same study reports that PET packaging accounted for 44.7% of single-serve beverage packaging in the US in 2021, and 12% of global solid waste.
Ultimately, solving the dilemma of plastic water bottles which are essential to providing safe drinking water to more than 25% of the world's population and a significant contributor of plastic to the ocean is critical to solving the ocean plastic crisis overall.
Share: https://www.openoceans.org/blog/Blog33/Plastic-water-bottles-and-safe-drinking-water--a-dilemma-and-an-opportunity
Share Category "Trash and Plastics":
https://www.openoceans.org/blog/BlogCategory6/Trash-and-Plastics